Two fish farms that sell rainbow trout to high-profile stores and outlets including Waitrose and Harrods have been investigated over accusations they breached welfare standards.
Vegan animal welfare charity Viva! conducted the investigation at two UK-based fisheries. Footage shows fish suffering from 'extreme stress' in overcrowded conditions.
Breached guidelines
The footage shows a plethora of fish suffering from damaged tails, fins, and eyes. Many were left to die as they were pushed up against outlet grilles.
Ponds were murky, filled with feces, and left the fish open to predation – which goes against RSPCA guidelines.
The investigation took place at ChalkStream Foods and Trafalgar Fisheries, which supply Harrods, Abel & Cole, Fortnum & Mason, The Ritz, and The Ivy. It was conducted between June and November last year.
'Extreme stress'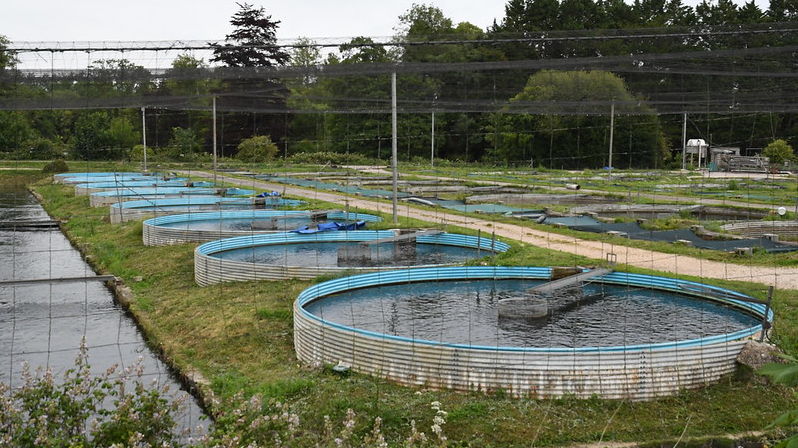 Both farms use a mechanical pump to sort and weigh the fish. Viva! claim this causes fish 'extreme stress' as they're pumped between ponds.
As they are sorted and weighed, the footage shows fish kicked as they fall off conveyor belts and onto the ground, beaten with wooden tools.
Chalkstream Foods is part of the RSPCA Assured Scheme and Trafalgar Fisheries are certified by Quality Trout UK.
Dead fish left in the water, coupled with the water quality and treatment of the fish break these guidelines.
'Totally unacceptable'
Upon watching the footage at Trafalgar Farms, the RSCP issued a statement. It says: "We are all deeply upset and concerned at what is shown. It is totally unacceptable for fish to be treated in this way.
"We have launched an investigation and suspended three of the sites in the video, which means these farms cannot be marketed as RSPCA Assured. Our investigations are now ongoing.
"I would like to stress that any allegations of animal welfare issues, or breaches of the RSPCA Assured membership agreement, are not tolerated and taken very seriously."
Viva!'s investigation
'Significant pain and suffering'
Head of Investigations at Viva!, Lex Rigby, accused intensive aquaculture of prioritizing profit over welfare: This causes 'significant pain and suffering', she said.
In a statement, she added: "Severe overcrowding, poor water quality, painful abrasive injuries, and inhumane slaughter reveals the ghastly reality of life (and death) for farmed rainbow trout in this country – packaged and sold to high-end retailers.
"With fish farming on the rise, these problems are only set to get worse. Now that there are so many more plant-based fish alternatives on offer, that really do taste great, there couldn't be a more perfect time to choose vegan instead."
For more information on the work Viva! conducts, visit its website.