Moon Jae-in, president of South Korea, is hinting at banning the controversial dog meat trade across the country. This is with a view to boosting animal welfare systems, in a move welcomed by campaigners.
Animal rights boost in South Korea
After being briefed by prime minister Kim Boo-kyum on animal rights, Jae-in made a nod to creating a mandatory registration system for abandoned dogs.
The politician's spokesperson, Park Kyung-mee, said: "After the briefing, he said time has come to carefully consider imposing a dog meat ban", reports Reuters.
It's the first time the president has raised a potential ban, the news outlet adds, and comes as many across South Korea are in favor of it.
According to the animal rights organization, Humane Society International/Korea, up to two million dogs are raised on farms countrywide. Then, they are killed by electrocution and sold to butchers to produce soup.
Despite this, the organization recently commissioned an opinion poll that found that a staggering 84 percent of South Koreans say they don't or won't eat dogs. Additionally, more than half are in favor of a legislative ban against it.
South Korea dog meat ban
Dogs are killed for soup because many believe it cools the blood over hot summer months. This belief is held mainly by the older generation, says HSI/Korea.
However, a number of dog slaughterhouses have been recently shut down.
Two years ago, the country's largest dog meat market was closed by authorities, prompting the rescue of 80 animals. Here, it killed live dogs to order alongside the selling of chilled dog meat.
Just weeks ago, another farm on Jindo Island was shut down, resulting in the rescue of more than 60 dogs.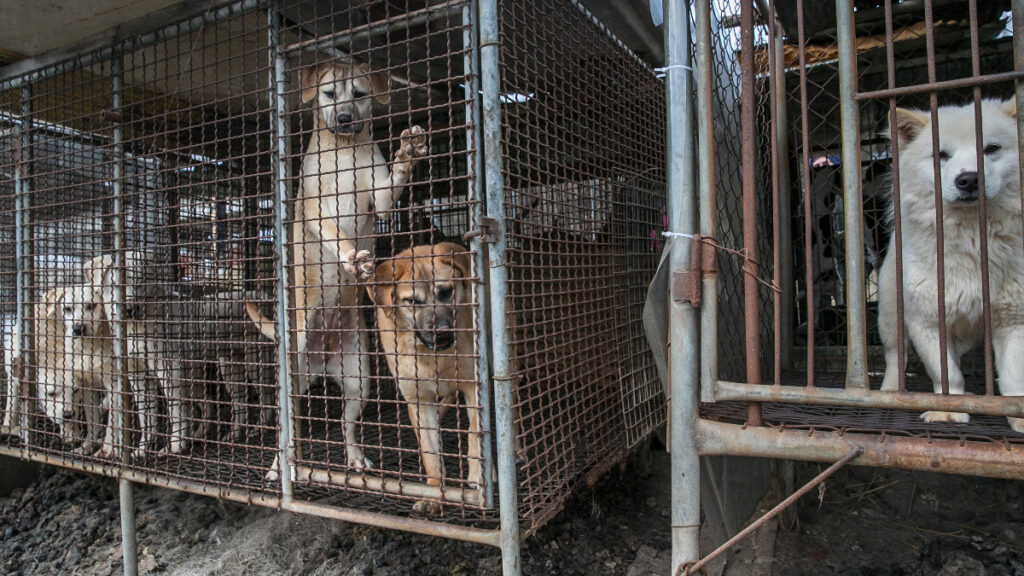 'Appalling animal suffering'
Campaigners at HSI/Korea welcomed the move.
In a statement sent to PBN, dog meat campaigner Nara Kim said: "As a Korean who has visited many dog meat farms and seen the appalling animal suffering first hand, I welcome these words from President Moon.
"And, hope that it signals the beginning of the end for the brutal dog meat industry.
"These dogs live a dreadful existence, locked in barren wire cages their whole lives, most in a pitiful state of malnutrition, skin disease, and fear, only to be painfully electrocuted often in front of each other.
"It's like a living nightmare for them, all to produce a meat that most Koreans don't want to eat. Banning dog meat would be the right thing to do not just for the dogs but also for South Korea. HSI/Korea works with dog farmers who want to get out of this dead-end trade.
"Our program helps them transition to more humane livelihoods, and so we urge President Moon to advance a ban but also to adopt HSI's farmer transition program to make sure the phase-out happens with the backing of farmers so that it is sustainable and permanent.
"Consigning the dog meat industry to the history books is within our grasp."