An undercover investigation conducted by leading vegan campaigning charity Viva! has exposed the abhorrent treatment of turkeys inside factories supplying to supermarkets across the UK.
The investigation into three intensive Red Tractor certified farms in the South of England revealed 'shocking scenes of suffering and cruelty with a total disregard for animal welfare', the charity confirmed.
Findings
Hidden cameras were placed at Strawberry Hill Farm in Gloucestershire and showed overcrowded birds confined to windowless sheds, the activists claimed.
They also state 'a number' of turkeys at Strawberry Hill were found with untreated broken wings, and workers were caught 'brutally' kicking months-old birds before forcing them into crates ready for slaughter.
The other farms' investigators collected evidence at were Clearwell Farm in Gloucestershire and East Farm in Norfolk. East Farm is operated by the UK poultry giant Gressingham which produces over eight million turkeys, ducks, and chickens for major supermarkets nationwide.
Strawberry Hill is owned by JM & Me Harrington, which produces birds for Avara Food – one of the UK's largest food producers which sells to Tesco, Sainsbury's, ASDA, and Morrisons.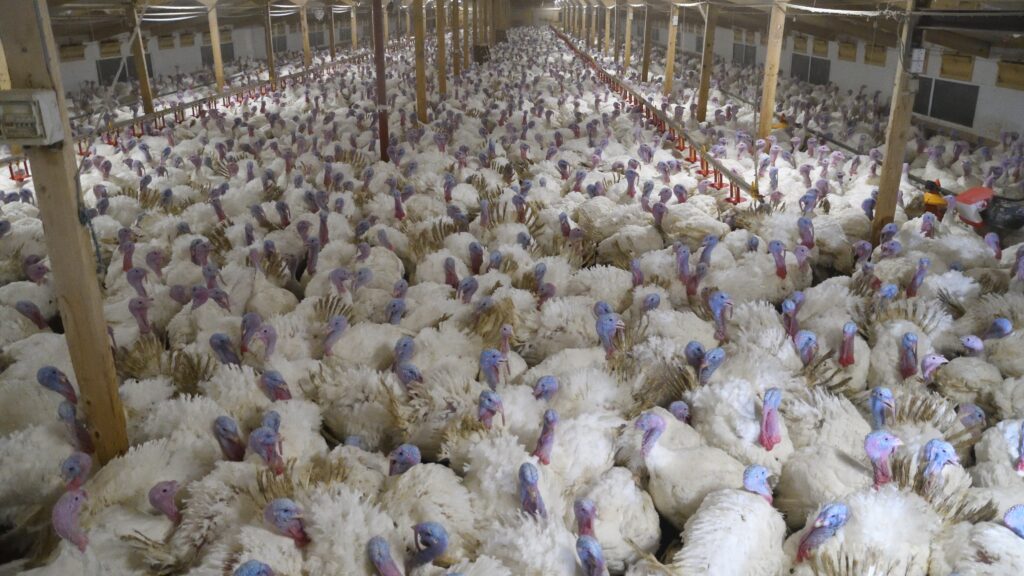 'Disturbing' injuries
The activists found a 'concerning' amount of birds were suffering from 'disturbing' injuries on the farms, including bloody wounds caused by other birds pecking out their feathers.
They also claim birds were seen with debilitating respiratory problems and deformed legs and feet, which Viva! says is a potential result of high levels of ammonia from excrement on the farm's floor.
To meet Red Tractor standards, the health and welfare of birds must be checked regularly. The investigation at Strawberry Hill observed one worker making a thorough check in the morning and a brief one in the evening – which does not meet Red Tractor's standards.
Viva! reported its findings to the Trading Standards.
'Simply disgusting'
Head of Investigations at Viva!, Lex Rigby, said: "The UK supposedly prides itself on having some of the 'highest animal welfare standards in the world', yet the total disregard for the Animal Welfare Act's five basic freedoms on these farms is quite simply disgusting. 
"Once again our team witnessed appalling conditions, documenting the systematic abuse of farmed turkeys, whose miserably shorts lives are filled with nothing but pain, discomfort, and fear – all for the sake of Christmas dinner.
"The government and industry bodies alike are failing in their duty of care and what our investigation reiterates is the fact that regulatory bodies such as Red Tractor are nothing but a façade for the horrendous, brutal and cruel reality of intensive factory farming in this country. "
COVID-19
Lex states the conditions on the farm not only showed 'severe animal suffering', but the creation of a 'hotbed of disease' which could lead to the outbreak of disease, such as COVID-19.
She added: "Christmas is supposed to be a season of peace and goodwill, and we believe there is no better way to celebrate than to extend our compassion to all beings.
"This is why we are calling on consumers to choose an alternative to turkey this Christmas and choose vegan."
A spokesperson for Sainsbury's told The Independent it would 'work closely' with Red Tractor to investigate.