Factory farms supplying UK supermarket giants found chickens dying of thirst on 'breeding grounds of disease', a major new investigation has uncovered.
Three large sites supplying Tesco, Sainsbury's, Lidl, and KFC revealed 'filthy' conditions, investigators claim.
'Filthy' factory farms
The shocking discoveries came after leading vegan charity Viva! launched an undercover investigation.
It took place on farms in Hertfordshire, Somerset, and Derbyshire.
The former, funneling Avara Foods -Tesco's biggest poultry supplier – showed 30,000 chickens dying of dehydration in horrific conditions.
According to Viva!, their 'grotesquely overweight' bodies meant they are unable to access water points because their legs are too weak. Growth is often maximized in intensive farming to reach 'slaughter weight' sooner.
And it causes a host of issues such as lung problems, broken bones, and weakened hearts.
A spokesperson told The Independent: "The damning footage also shows dead birds trodden into the ground. And covered with litter, which appear to have been left for some time." This is 'unsurprising given the sheer number of birds in the shed'.
Undercover investigations
The other investigations took place on Hook 2 Sisters in Somerset and one of Moy Park's 800 sites, Overbrook Farm. Together, they supply Aldi, Co-Op, KFC, Lidl, Sainsbury's, and Tesco.
At Hook 2 Sisters, 'numerous' dead and decaying birds were discovered. Moreover, many others had 'hock burns' caused by ammonia on the ground.
Some displayed pecked feathers by other birds, which displays a sign of behavior change due to conditions. This is well documented on factory farms. And, widely understood as a sign of frustration, stress, and boredom.
'Countless' birds kept at Moy Park were also dead, and 'left to rot'.
The farm is owned by Pilgrim's Pride – an American brand under meat giant JBS. Moreover, it slaughters a staggering six million birds a week.
Factory farms
Head of Investigations at Viva! is Lex Rigby. She told the news outlet: "I am concerned to see examples of cannibalism, feather-pecking, and birds suffering severe feather loss.
"Our insatiable desire for cheap chicken has led to an alarming rise in US-style mega-farms that prioritize profit over welfare.
"Vast industrial rearing facilities litter the countryside, causing unnecessary pain and suffering. As well as damaging our health and the environment.
"Marketing leads consumers to believe the UK has some of the world's highest animal-welfare standards. But the reality is a far cry from the adverts."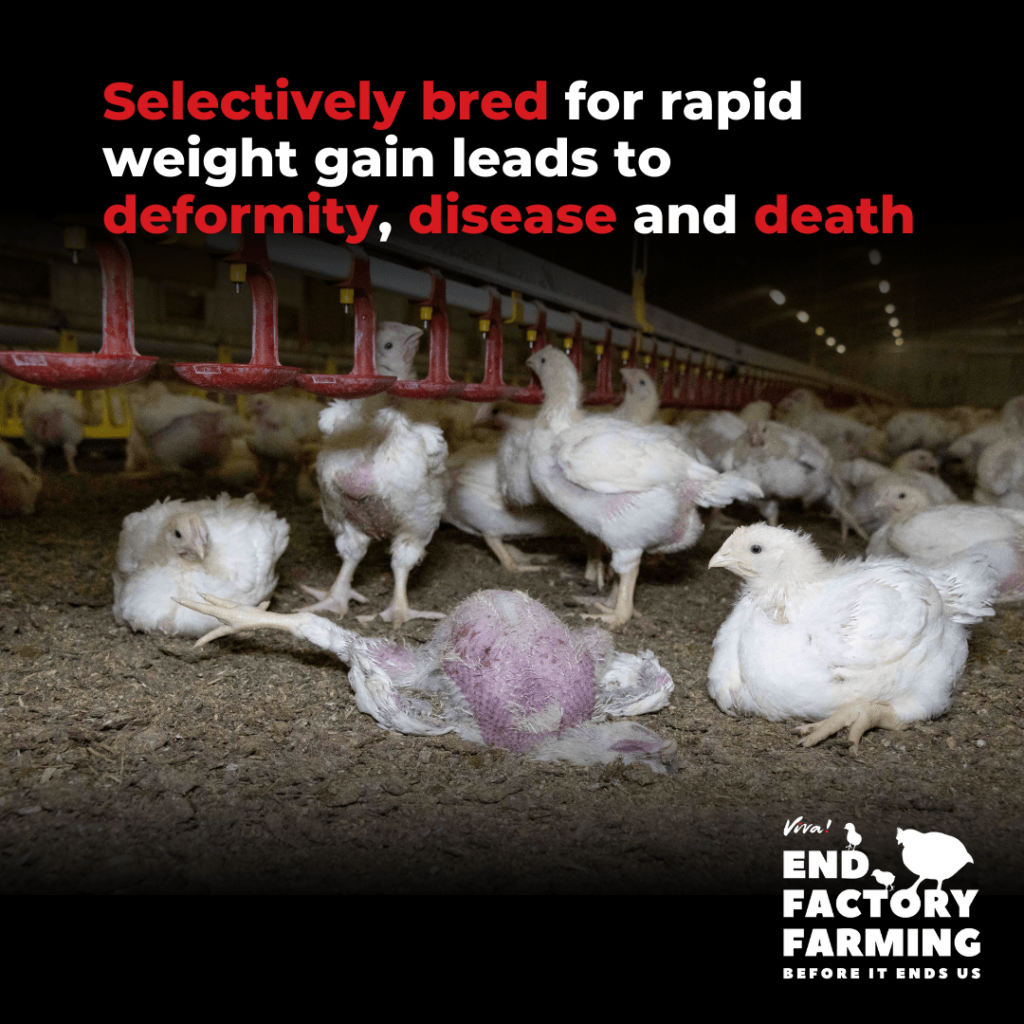 Certified farms
All farms held approvals from Red Tractor, an agency assuring high standards. Products displaying its logo are 'responsibly sourced' and from animals that have been 'well cared for'.
But a number of investigations have been launched following the discovery.
According to Tesco, 'any claims of suppliers falling below these are unacceptable'. Moreover, a spokesperson for Moy Park said it will launch a thorough investigation. But Hook 2 Sisters affirms the allegations are 'untrue'.
Red Tractor says it launched an investigation to 'substantiate whether they presented an accurate representation of the farms' management'. All sites are complying with its scheme, the investigation concluded.