An anti-dairy campaign aimed at encouraging people to adopt a vegan lifestyle has caused a stir in Jersey. Giant adverts were printed on the side of buses which read: 'Dairy Takes Babies From Their Mothers'.
Go Vegan World is behind the ad. It is an advertising campaign organization committed to bringing public awareness to how animals are treated.
Anti-dairy campaign
Go Vegan World claims the ad is 'causing a stir' in Jersey, UK. The organization said: "The usual retort from the industry is to refer to how well the cows they exploit for profit are treated.
"Go Vegan World does not concern itself with welfare reform of an already unjust system.
"It asks us to stop using other animals at all by educating the public on animal sentience, animal rights, and the moral imperative to be vegan. We do not have the right to treat them as commodities or resources; they are not ours to own, use, exploit or kill.
"Behind the facade of the image the dairy industry portrays, is a miserable life of exploitation and use and an early and violent death for all cows."
One Jersey resident claimed it's the 'single biggest' form of activism they've ever seen on the Channel Islands.
Since its inception last October, the campaign is also running in Guernsey, Shetland, and the Isle of Man.
Freedom of speech
The bus company told ITV News it supported the farming industry but didn't want to 'limit freedom of speech'.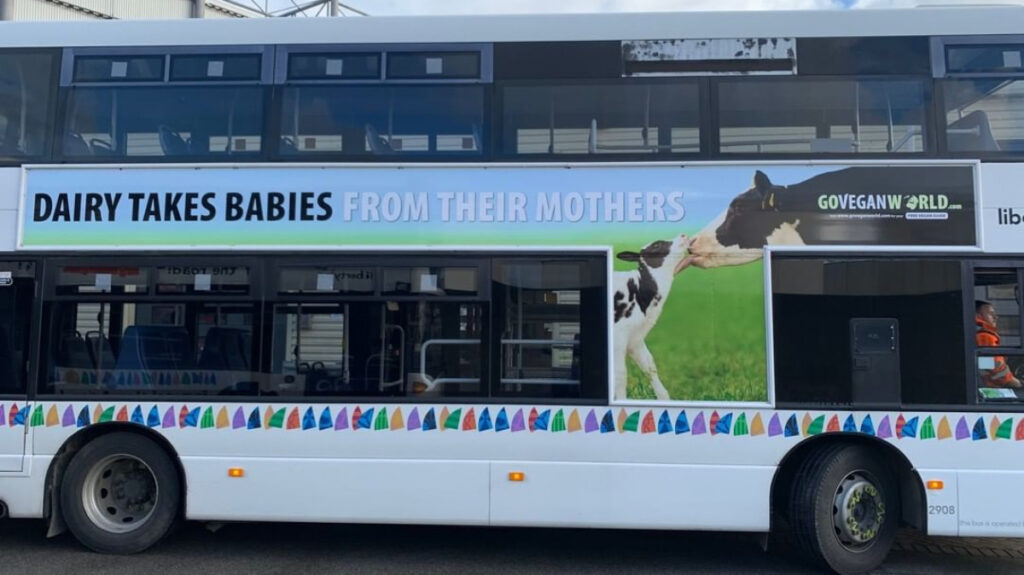 Go Vegan World says it is not against farmers either and is rather against the 'needless killing of animals'.
The organization adds: "Farmers are so important and work hard to keep food on plates. So, hopefully, we can see a more effective and ethical change in growing more fruit and veg."
Februdairy
The campaign comes during Februdairy, a social media campaign created by the dairy industry in an attempt to boost sales.
MEPs voted in favor of the dairy ban last year, which means plant-based dairy producers would be prevented from using certain descriptive terms.
A petition circulated to prevent the ban which states: 'We want you to put a halt to plant-based dairy censorship'.