A video allegedly showing police shutting down dog meat stalls at the controversial Yulin festival is being shared by an animal welfare charity.
More than 10 million dogs and 4 million cats are reportedly killed every year for human consumption in China, but the practice is becoming increasingly polarized, with many young people strongly opposed to it.
The last few weeks has seen lots of information emerging around the festival, with reports released that the festival itself had been cancelled – though these were later disputed, with Jason Baker, Vice President of International Campaigns at PETA, saying: "We have spoken with several people working within the mayor's office, the food and drug administration and the municipal building and no one seems aware of a Yulin festival ban."
These rumors were possibly the result of news that Yulin city was going to ban the sale of dog meat during the event. The ban, which was set to come into force on June 15 (one week before the festival begins on June 23) would see traders risk arrest and a fine of up to $14,500 if caught selling the contraband meat.
The ban was credited to Yulin's newly appointed Party Secretary Mo Gong Ming.
'Compromise'
Now according Humane Society International [HSI], a last-minute compromise deal was recently reached in place of the ban between angry dog meat vendors and the Yulin authorities, whereby vendors are permitted to sell dog meat, but are limited to two dog carcasses per stand – a dramatic reduction for most vendors.
But HSI's Chinese partners claim to have seen a number of dog meat traders selling in quantities they believed was violation of the order. They reported the activity to the the authorities in Yulin. This was then followed by a crackdown whereby the traders were told to close down their stands.
HSI's Chinese activist partner, Sean Long, said: "It doesn't look like business as usual at Dongkou market in Yulin. It's disappointing to see dog meat still on sale, but nothing like the amount we've seen in the past.
"Business was slow at the market, with far fewer buyers. Some vendors we spoke with said they believed they were allowed to sell dog meat again, and hinted that some kind of concession had been gained from the authorities just in the last couple of days.
"However, other vendors expressed doubt that they would be allowed to continue selling dog meat for long and said that there was so much genuine uncertainty that they had decided not to order more dogs in case they can't sell them."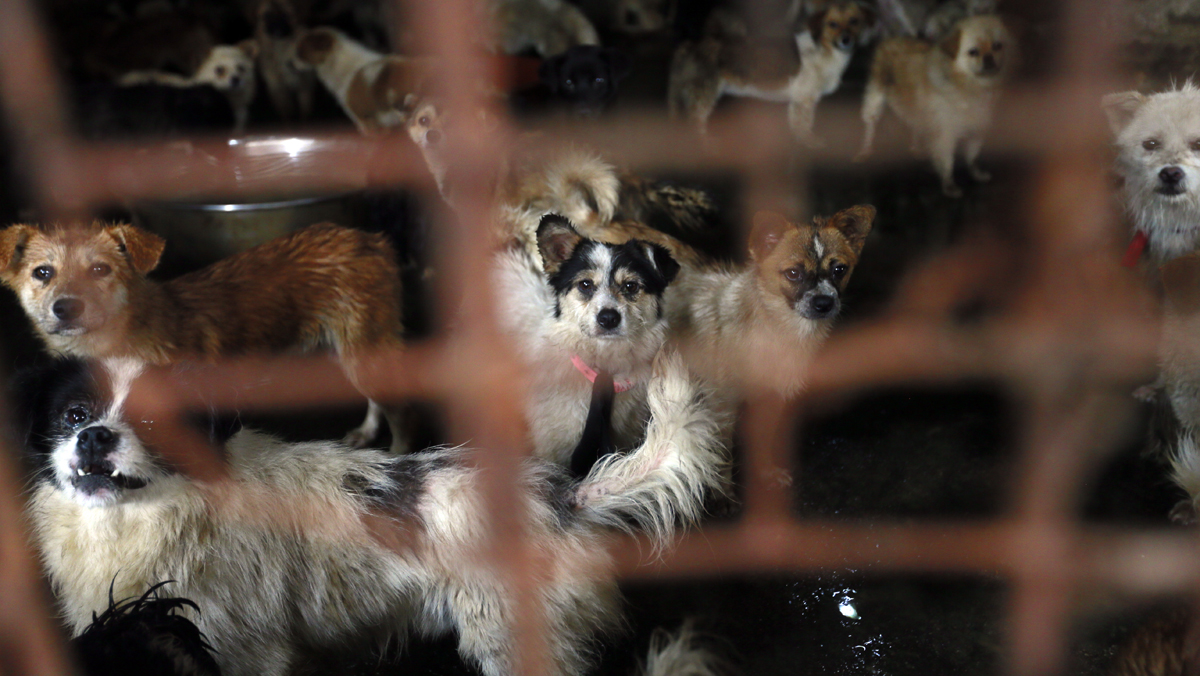 Enforcing the order
HSI's partner groups are also reporting that the Yulin police department has set up a temporary office in the main Dongkou market for daily inspections to enforce the order, and so HSI would encourage Chinese activists on the ground to swiftly report any violations they see.
These partner groups will continue to monitor the situation and assist the Yulin police in taking action against dog meat vendors who violate the order.
Dr Peter Li, HSI's China policy specialist, said: "It is encouraging to see the Yulin authorities enforcing the compromise ban that they themselves struck with Yulin officials. It shows that while the restricted sales order is by no means perfect, it is absolutely having an impact and Yulin law enforcement want to be seen to be taking it seriously.
"Our Chinese partners share the frustration of animal campaigners around the world that change in Yulin is a long time coming, but they are keen for this video to go viral so that people can see that progress is being made and the dog traders are definitely feeling the pressure.
"This kind of crackdown is certainly causing vendors to hold off buying more dogs, and word is spreading."
READ MORE:
Dog Meat 'Not Popular' In Yulin, China – Despite Controversial Festival