Widely-acclaimed photographer Jo-Anne McArthur has released a new book, Captive, exploring the interaction between humans and animals in captivity.
The book, which follows previous publication We Animals, contains photos taken over the course of a decade.
For more than 10 years, McArthur documented zoos and aquaria in over 20 countries, illuminating how we see, and fail to see, animals in enclosures.
She challenges those who view her work, to look through her lens, and question the relationship between we humans and those animals.
Jonathan Balcombe, Author – What a Fish Knows, says: "In her stunning images, Jo-Anne McArthur conveys more than words ever can the injustice of confinement, and the arcane idea that we are lords and they are things."
Artist
Jo-Anne McArthur is a photojournalist, author, and humane educator.
She has been the recipient of many awards for her work in the field, including Huffington Post's 'Top 10 Women Trying to Change the World', one of CBC's 'Top 50 Champions of Change', as well as being the recipient of Toronto's 2013 Compassion for Animals Award.
As one of the world's foremost photojournalists documenting the stories of animals, McArthur was the subject of the acclaimed documentary The Ghosts in our Machine.
In spring 2017, she launched the We Animals Archive, a free-to-use resource featuring thousands of high resolution photographs of animals.
Her images have been used by hundreds of organizations, publishers, and academics, and have been exhibited around the globe from Helsinki to Sydney.
National Geographic, The Guardian, Elle Canada, DAYS Japan, Helsingin Sanomat, and many other media outlets have featured her work, and she has received awards and accolades from organizations such as Huffington Post, CBC, and numerous animal protection organizations.
Personal
In addition to the 148 unsettling photographs in Captive, McArthur shares her own reflections and personal accounts of what she has observed throughout the course of this long-term project.
Essay contributions about the ethics of captivity, as well as the history and future of zoos, were written by Born Free Foundation's co-founder, Virginia McKenna, and by philosopher Lori Gruen.
McArthur says: "Increasingly, zoos and aquaria are being called upon to undertake both ideological and physical changes to their institutions.
"At the center of the current debates regarding the ethics of captivity are the animals and our moral obligations towards these 'others'.
"Captive looks at the animals we so often fail to truly see, and is my contribution to the ever-growing conversation about keeping these individuals on display."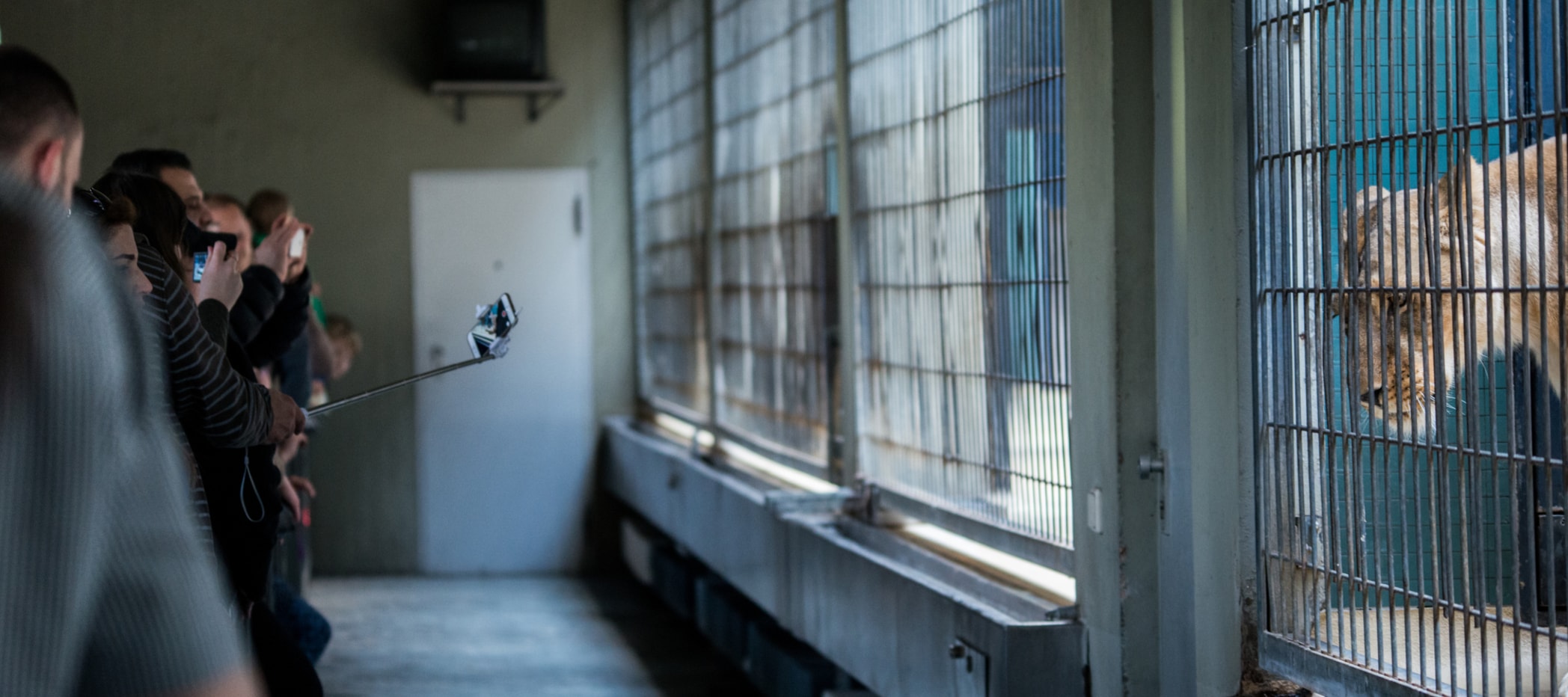 Companion projects
On January 1, as a companion to Captive, McArthur launched social media project A Year of Captivity.
Every day in 2017, A Year of Captivity shares an image and stories about captive animals around the world, along with related media, and tips on how we can further the mainstream discourse about ethics of zoos, as well as help create meaningful change for animals.
From September 7-10, 2017, images from Captive and A Year of Captivity will be exhibited at Toronto's Harbourfront Center alongside Toronto Vegfest, the biggest event of its kind in North America.
McArthur is currently booking speaking engagements and book signings for Captive, with an official US book launch taking place at the Leonard Nimoy Theatre, NYC, on October 21.
Follow A Year of Captivity's social media for updates on speaking engagements and book signings. A west-coast book tour will take place in early 2018.
READ MORE:
Rocker Jon Bon Jovi Ditches Leather From His Fashion Line
Made In Chelsea Celebrities Tiffany And Lucy Watson Among Speakers At London's Vevolution Vegan Festival
Yorkshire Vegan Pop-Up Serves Low Cost Meals To Hungry Children