Animal rights activists took to the streets of Nottingham this weekend to protest the lack of transparency around animal testing at top universities.
The march – which annually is the largest anti-vivisection demonstration in the UK – was coordinated by Nottingham Animal Rights in conjunction with Animal Justice Project [AJP], an international pressure group that campaigns against vivisection and other animal industries.
In addition to the march, Animal Justice Project marked World Day for Animals in Laboratories (April 24) by releasing findings from a probe into animal experimentation at top universities, saying it 'reveals the previous top users of animals are refusing to disclose basic information about animal research within their laboratories'.
'Failure to disclose information'
As a result of the probe, campaigners can reveal that staggering high numbers of animals are used in experiments at universities – despite new research questioning the scientific rigor of animal experimentation.
In addition, top universities are failing to provide the public with access to key information via the Freedom of Information Act [FOI] 2000 and Freedom of Information (Scotland) Act 2002.
According to AJP, the reasons for failing to disclose the information are 'unacceptable', with the institutions citing staffing issues and threats to the safety of researchers.
Refusal to disclose
Despite claiming they were open about animal research, last year, half of the top 10 users of animals in Britain (including the previous top three) refused to provide numbers and species of animals used.
These include Oxford University, Edinburgh University, University College London [UCL], Cambridge University and Imperial College London. Each of these universities appear in the 'QDS World University Ranking Top 100'.
Stats
The UK's largest user of animals – University of Oxford – experimented on a staggering 236,429 animals last year including over 229,000 mice and seven non-human primates – 54 are housed at Oxford's laboratories.
Edinburgh University – the UK's second largest user of animals – experimented on 225,366 animals in 2017.
UCL – the UK's third largest user of animals – experimented on 203,744 animals in 2016 but no figures are known for 2017.
Concordat
All three of these universities are signatories to the Concordat on Openness on Animal Research.This is 'a commitment to be more open about the use of animals in scientific, medical and veterinary research in the UK'.
Despite this, all three refused to provide information about the number of animals tested on, and the species, despite Freedom of Information requests made by AJP.
Oxford applied for exemption in section 12 of the FOI Act, claiming it would take too long to gather the data. Edinburgh applied for exemption under the 'public interest test', saying: "The University has concluded that in this case the public interest in the application of the exemption outweighs the public interest in premature disclosure."
UCL also refused to provide the information, saying: "Given that there are firm plans in place for the publication of the data we consider it reasonable to withhold this from disclosure under the FOI regime at this current time."
'Animal rights extremists'
UCL also cited safety concerns for its failure to disclose the information, saying: "Individuals should be protected in threats to their safety…public interest arguments do not outweigh prejudice that would occur from disclosure to the safety of researchers.
It added that information 'in the hands of animal rights extremists' would 'likely' distort or manipulate so as to incite hatred and intimidate members of UCL.
Another facility – The University of Glasgow – also cited these concerns, refusing to provide any meeting minutes, claiming that 'disclosure of the requested information would, or would be likely to, directly or indirectly endanger the safety and wellbeing of its staff'.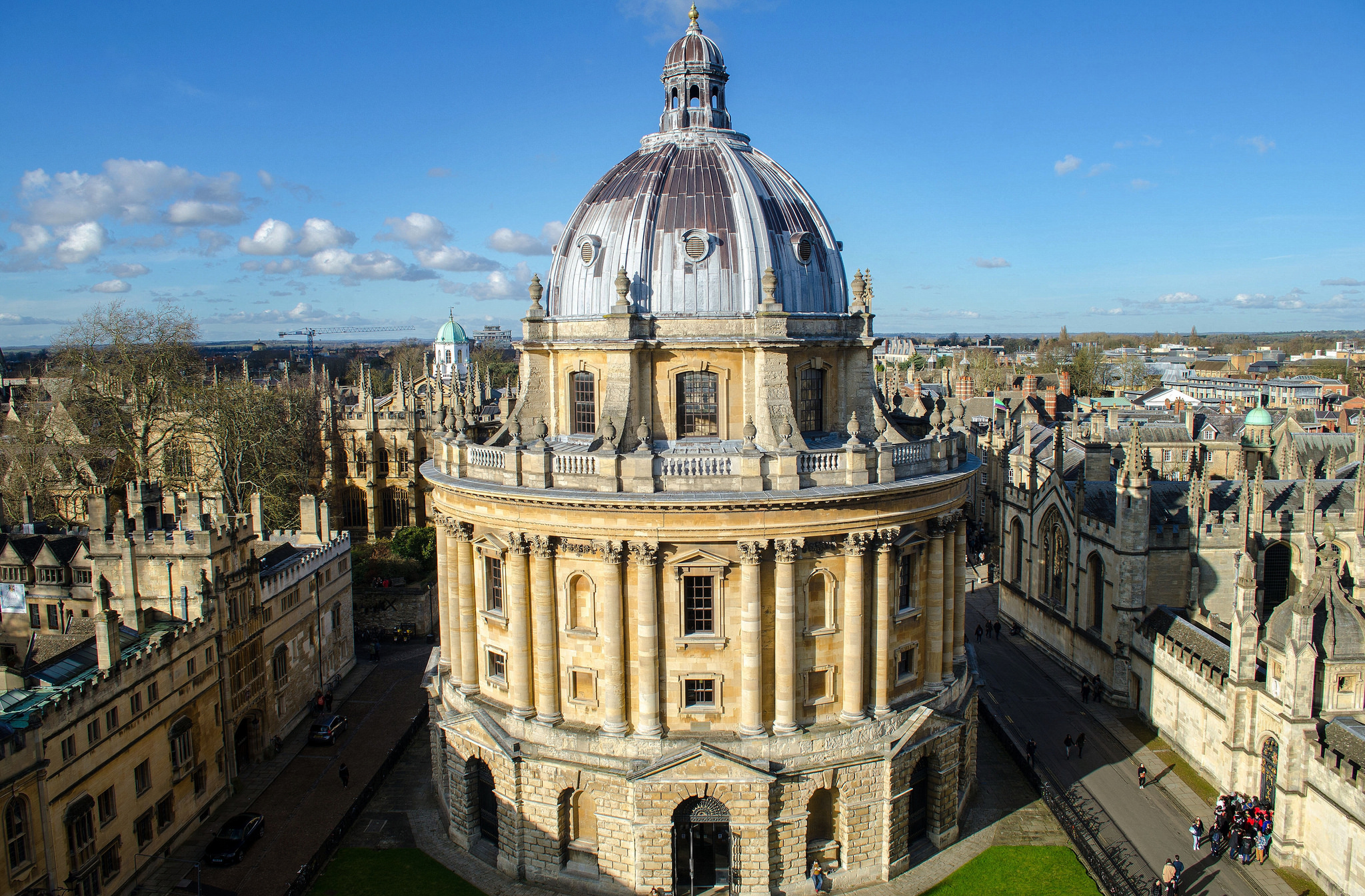 Validity?
Cambridge and Imperial College London – both signatories to the Concordat – both refused to disclose the data despite FOI requests. In 2016, Cambridge used 155,394 animals, and Imperial used 101,369. There is no data for 2017.
Bristol University – which isn't in the top 10, but was exposed by Animal Justice Project last year for experimenting on cats – refused to answer Freedom of Information requests for at least four years, claiming that it did not keep a central record of animal experimentation licences. It continues to avoid disclosing this information, citing 'staff absences' among other excuses.
A spokesperson for Animal Justice Project said: "[We] question the validity of the Freedom of Information Acts (and the Concordat) if universities can simply refuse to provide the most basic information, stating instead they will add the information to their websites later in the year. And at any point in time."
Scientific rigor
Although universities continue to test on staggering numbers of animals, there is an increasing number of questions around the validity and rigor of animal testing.
According to Animal Justice Project: "Over the past few years, researchers have repeatedly shown that many animal studies lack scientific rigor; they are often prone to biases, for instance, and are sloppily reported in scientific journals.
"In 2018, scientists cite hundreds of biomedical studies from journals including Nature, Science, and the Journal of the American Medical Association to show animal modelling is ineffective, misleading to scientists, unable to prevent the development of dangerous drugs, and prone to prevent the development of useful drugs.
"Legislation still requires animal testing prior to human testing even though the pharmaceutical sector has better options that were unavailable when animal modelling was first mandated. The legislation?mandated reliance on animal test results in early stages of the drug development process leads to a mere 10 percent success rate for new drugs entering human clinical trials."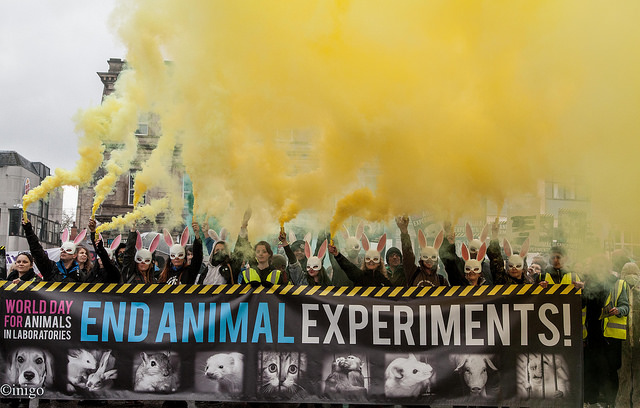 A public scandal
Claire Palmer, Founder of Animal Justice Project states: "Here we are, in 2018, following World Day for Animals in Laboratories – a day that was instituted in 1979 to end the suffering of animals in laboratories – and we have the largest users of animals in Britain concealing animal experiments.
"The Freedom of Information Acts are failing to ensure the public receives the information it deserves; and universities making outrageous accusations and excuses as to why the public shouldn't be told what happens to animals inside labs by their staff and researchers.
"This is a public scandal that needs to be exposed."
March
Speaking about the weekend's event – and the number of people who came to support the action, Palmer added: "The weekend's march was a huge success – we had around 800 people marching passionately for laboratory animals – a much better turn out than we've seen in recent years. We are proud to say people travelled from all over the UK to be here today and there was a positive feeling in the air.
"Many of these people were new vegans, and some had never attended a march before. Animal Justice Project, as an anti-speciesist organisation, promotes both veganism and an end animal experimentation. All animals are equal, after all.
"For us, the march was about more than just one issue, it was about bringing people together and giving them a voice, so that they in turn can give animals a louder voice. It was about building a stronger animal rights movement."